There is something special about our students' unique mix of passion, preparation, and purposefulness that translates to real change for the people and communities for which they advocate.
Our Office of Student Affairs has team of dedicated staff to support you in your CUNY Law experience including the Interim Dean for Student Affairs, Director of Student Services, Associate Director of Student Activities, Student Affairs Coordinator, Student Accessibility Service Assistant & Mental Health Professionals. If you have general inquiries about various components of your experience, please email studentaffairsoffice@law.cuny.edu. Learn more about each team member below and how they provide specific support to students.
Common Requests and Questions
Make-Up Exams – Students may request to re-schedule an exam by filing a Special Accommodations and Make-up Examination Petition. The petition forms are available in the Office of Student Affairs and online on the Student Affairs page of the CUNY Law website. Requests will not be entertained until all documentation is complete and submitted. Failure to respond to questions and requests for information from the Office of Student Affairs in a timely manner, as determined by the Office of Student Affairs, may result in a denial of the student's request and/or a grade reduction on the exam.
Requests for rescheduling of examination times due to conflicts must be made by filing a petition with the Dean of Students at least one week before the examination. Failure to give sufficient notice may result in a grade reduction or refusal of an accommodation. View the student handbook for more information.
All

Career Planning

Information Technology
Tuition & Fee Manual
Purpose of this Manual
This Tuition and Fee Manual ("Manual" or "TFM") was created to combine tuition and fee policies and procedures in one document to provide assistance to CUNY staff. Although not designed to be the definitive training document, the Manual will provide support to new and experienced staff.
Sections in the Manual are identified below. Clicking a topic will provide direct access to that section.
Sections begin with a group of policy statements, followed by pertinent definitions, and tables or charts. All information in the Manual will be periodically updated.
Suggestions for clarification or correction to the Manual are encouraged and should be submitted to:
TnFManual@cuny.edu
Office of the University Treasurer
City University of New York
230 West 41st Street
New York, NY 10036
Download the CUNY residency form .
Return of Unearned Military Tuition Assistance Funds Policies and Procedures
Download a Return of Unearned Military Tuition Assistance Funds Policies and Procedures
Policy Statement: Military Tuition Assistance (TA) is awarded to a student under the assumption that the student will attend school for the entire period for which the assistance is awarded. When a student withdraws, the student may no longer be eligible for the full amount of TA funds originally awarded. To comply with the Department of Defense (DOD) policy, CUNY School of Law will return any unearned TA funds on a prorated basis through at least the 60% portion of the period for which the funds were provided. TA funds are earned proportionally during an enrollment period, with unearned funds returned based upon when a student stops attending.
Popular Student Discounts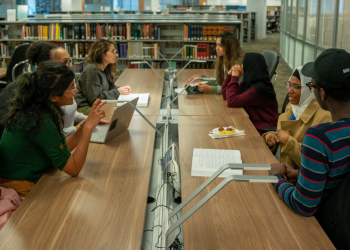 SCHEDULE A MEETING
WITH A MEMBER OF OUR
STUDENT AFFAIRS TEAM