As the #1 clinical program in the nation, and a pioneer in clinical education, CUNY Law leads legal education in experiential, immersive learning focused on building professional experience, hard skills, and serving real human needs.
Every student participates in our clinical education, which is considered the capstone of your public interest lawyering education built on our unique experiential, hands-on learning for advocates. Our faculty are leading experts, advocates, organizers, and trailblazers in the social justice lawyering field; our community partners and clients help us create transformative justice. Get to know our clinical offerings and the impact they generate.
Clinical education is an integral part of CUNY Law's academic core.
This overview of our clinical education offerings is meant to help students plan and navigate their clinic experience. Toggle between the offerings to see high-level overviews of clinic logistics; for more information, see each clinic's program pages.
Community & Economic Development Clinic
The Community & Economic Development Clinic (CEDC) focuses on preparing students for transactional lawyering on behalf of not-for-profit community organizations and start-up small businesses. The CED Lawyering seminar or Not-for-Profit lawyering seminar are pre-requisites for this course. The clinic builds on these courses to develop lawyering skills that are needed to do transactional work for organizations that are trying to make a difference in building vibrant, sustainable communities. Students represent start-up organizations in obtaining incorporation and tax-exempt status. Students also work on CED projects with established CED lawyers in the community to learn from working on more complex and diverse projects. This work involves contracts, leases, employment issues, construction and regulation issues on behalf of clients. Classroom work will focus on Community Economic Development theory,skills for organizational development and more complex lawyering tasks, role of lawyer in transactional work as well as substantive law related to not-for-profits.
The CLEAR Clinic is a continuation of the Creating Law Enforcement Accountability & Responsibility (CLEAR) project of Main Street Legal Services, Inc., which was founded in 2009 by CUNY School of Law faculty and students to support movements and address legal needs within Muslim, Arab, South Asian, and all other communities in the New York City area and beyond that are affected by government policies and practices justified in the name of "national security" and "counterterrorism." Law enforcement agencies' use of informants, undercover officers, predatory prosecutions, watch lists, passport confiscations, "security holds" in immigration processing, and denaturalization, alongside broad surveillance, human mapping, and data collection without concrete suspicion of criminal wrongdoing has diluted the basic rights of many and damaged community life and civic participation. These issues affecting U.S. Muslims and, increasingly, other groups, including (non-Muslim) Black Lives Matter organizers, anti-war groups, environmental activists, and journalists are among the defining civil rights struggles of the 21st century. CLEAR uniquely combines legal representation (nearly 450 clients served since 2009) and complex litigation with public education and advocacy (nearly 300 know-your-rights workshops at nearly 100 different community sites so far), as well as research and other work in support of movement-building initiatives and to promote change in current policies and practices. Because CLEAR handles challenging, cutting-edge cases with no easy solutions, they become "impact" cases, and a breakthrough in one case can have ramifications in dozens of others nationwide. CLEAR students and supervising attorneys have developed expertise in handling sensitive and challenging advocacy on behalf of clients and partner communities. For more details, visit www.cunyclear.org. Pedagogy and Learning Outcomes: Accordingly, CLEAR is committed to a philosophy of movement lawyering that dictates holistic support driven by community aims and priorities. CLEAR exposes law students to the unique challenges of supporting and representing movements, communities, and clients who find themselves in the crosshairs of the sprawling U.S. security state. It is a unique application of movement lawyering theories taught in our curriculum. And it provides opportunities for the acquisition and development of fundamental and transferable lawyering skills and habits. Each student who enrolls in CLEAR is expected to represent and counsel clients, including in complex litigation matters; to facilitate rights awareness workshops at community sites; and to participate in movement building and organizing support work that arises. Students in CLEAR are required to attend and participate in "Plenary" seminars as well as separate supervision meetings with their colleagues and supervising attorneys, client meetings, formal appearances before courts and agencies, workshops, and organizing meetings. Plenary is devoted to clinical rounds and lawyering simulations, with critical discussion of doctrine, legislation, regulations, policy, and trends on many of the following topics, among others: – Law enforcement policies and practices in relation to security and "counterterrorism;" – Movement lawyering; – Over-policing of communities of color; – Surveillance and its societal effects; – Federal watch lists; – Material support statutes and predatory – Delays, denials, and other actions taken on purported security grounds in the immigration system; and- Exporting the U.S. security state.CLEAR students acquire and hone fundamental and transferable lawyering skills and habits, including many of the following:- Professional responsibility;- Digital security best practices for lawyers;- Movement lawyering / law and organizing;- Interviewing and counseling clients, including individuals who are approached for questioning by law enforcement, clients who are watchlisted without due process, and ones whose applications for immigration benefits are pretextually delayed or denied on purported security grounds;- Fact development and investigation;- Legal research and analysis;- Oral and written communication;- Case strategy;- Advocacy in court; in relation to grand jury investigations; in administrative agency contexts; with city, state, and federal elected officials; and with the media;- Requests and litigation under freedom of information statutes;- Negotiation;- Working with interpreters;- Cross-cultural and cross-class lawyering;- Time management; and- Collaboration in law practice through their client and project work.
Law 861 – Creating Law Enforcement Accountability & Responsibility Clinic
The Defenders Clinic provides legal representation to indigent teenagers and adults through relationships with the Criminal Defense Practice of the Legal Aid Society and Prisoners' Legal Services of New York State. Practice areas may include:*representing clients charged with misdemeanor offenses in the New York City Criminal Court,*representing clients seeking clemency or a pardon, *representing and assisting clients at parole proceedings, *representing clients on appeal of their criminal convictions, *representing clients placed in solitary confinement for long periods of time as a result of alleged prison disciplinary infractions, *representing clients at school suspension hearings, and*representing clients at civil forfeiture hearings. Student Defenders in the Clinic are supervised by Law School faculty who are assisted by the support staff of Main Street Legal Services (the Law School's clinical program). Student Defenders represent clients pursuant to the Student Practice Order authorized by the Supreme Court, Appellate Division for the Second Department, in effect for both Main Street Legal Services and for the Legal Aid Society. In addition to direct client representation, students will be assigned to work with a community-based organization on a policy or practice issue relevant to the criminal justice system, or may work with outside organizations and practitioners on another case, such as a trial, a direct appeal, or a post-conviction matter. Students are also expected to research and write on an issue of significance to criminal defense practice. Field visits and presentations by guest speakers comprise part of the Clinic.
Disability and Aging Justice Clinic
The Disability and Aging Justice Clinic (DAJC) advocates to enhance and promote the civil rights, autonomy, and self-determination of low-income individuals with disabilities, aging adults, and their families and support networks. The DAJC facilitates access to justice through direct legal representation, advocacy projects, and community outreach and education with the mission of empowering our clients as they navigate and challenge systems that seek to exclude, oppress, dehumanize, and disenfranchise. Students may represent clients in court and administrative proceedings in a variety of civil legal matters, including securing eligibility for government benefits and services, adult guardianships, prisoners' rights, and discrimination in access to programs and services. Students may also work to assist parents and families who are vulnerable to arrest, detention, and removal due to immigration status in protecting their children through advance planning documents. Clinic students take the lead as the student-attorney in every aspect of their assigned cases and projects. Practice areas in the DAJC may include:-drafting an amicus or other appellate brief on issues that impact the disability and/or aging community,-representing clients to remove an adult guardianship, -a court-appointed role as guardian ad litem in Surrogate's Court to ensure due process protections are strengthened for persons subject to indefinite adult guardianships, -engaging in advocacy for deaf and hard of hearing incarcerated individuals, -representing clients in filing civil rights complaints before the New York City Commission on Human Rights, -advocating for incarcerated individuals to ensure accessibility and access to programs and services,-representing clients in administrative hearings before the Office for People with Developmental Disabilities or other agencies, and -engaging in advance planning, including the drafting of wills, powers of attorneys, and health care proxies. Students in the DAJC are supervised by Law School faculty who are assisted by the support staff of Main Street Legal Services (the Law School's clinical program). Students represent clients pursuant to the Student Practice Order authorized by the Supreme Court, Appellate Division for the Second Department, in effect for Main Street Legal Services. In addition to direct client representation, students may be assigned to work with a community-based organization on a policy or practice issue relevant to disability and/or aging justice. Students are also expected to research and write on an issue of significance to disability and aging justice advocacy. Presentations by guest speakers comprise part of the Clinic.
The Economic Justice Project was created over 20 years ago in response to the crisis triggered by regressive federal welfare policies that forced thousands of low-income students in the City University of New York (CUNY) to drop out of school to fulfill "workfare" assignments. From its inception, EJP has worked in close collaboration with the Welfare Rights Initiative, a grassroots organization based at Hunter College. Over the years, WRI and EJP have engaged in advocacy, education, and organizing activities, including individual representation that has enabled over 1,500 CUNY students to remain in school, legislative and policy advocacy at the city and state level, and community education and know-your-rights presentations. Today, EJP continues to represent CUNY students at public benefits hearings while also providing legal support to grassroots community groups and campaigns focused on economic justice issues, including workers' rights and access to housing and public benefits.
New in Fall 2023, the Emerging Needs Clinic is part of a partnership with the Mayor's Office of Immigrant Affairs to build the Asylum Seeker Legal Assistance Network (ASLAN).
Equality and Justice Practice Clinic
The Equality and Justice Practice Clinic examines the meaning of equality, the ways the law promotes or limits equality, and whether the professional role of the lawyer enhances equality for the client and for society. The substantive areas of focus include civil rights, the fourteenth amendment, section 1983 actions, police brutality, and employment discrimination. Issues of race and sex are examined in depth, for example, racial and sexual harassment in the workplace. In addition, issues relating to sexual orientation and disability discrimination are explored. The course emphasizes procedural questions, such as exhaustion, standing, mootness, and abstention, and their tactical significance in state and federal litigation.
This clinical course will introduce students to the multiple ways that the law can be used to assist women who have been victims of assaults, batteries and other forms of domestic violence. In the BWR concentration students will work in a legal organization that does domestic violence advocacy, prosecution or criminal defense that is different from the direct services work that the BWR clinic does through Main Street Legal Services. These placements will involve criminal and civil work, such as domestic violence prosecution with the Brooklyn Family Justice Center, and legislative advocacy or impact litigation with an organization like Sanctuary for Families or The Legal Aid Society. Classroom instruction will include joint classes with the BWR clinic and BWR concentration students. In these classes, students will explore theoretical issues such as the efficacy of various legal responses to domestic violence; the inter-sectionality of domestic violence and race, class and sexuality; and the value and challenges of interdisciplinary work between lawyers and social workers. In the split classes, the BWR clinic students could delve more deeply into the specific law (Family Court Act, Domestic Relations Law, and immigration law) that is relevant to their cases. The BWR concentration students will learn the law relevant to the work they are doing. All students will learn lawyering skills such as interviewing and counseling. All students will also participate in case rounds.Students will be selected for the clinic based on screening criteria developed by the Law Clinic faculty. Enrollment will be limited and will vary from year to year depending on the Clinic budget and other restraints.
This clinic provides participation in the dynamic, growing and challenging area of health law issues, including access to healthcare and the effect of the law on the quality of care. Students work as interns two days a week in a variety of public interest settings, including governmental agencies like the Health and Hospitals Corporation, legal services offices, HIV advocacy centers and plaintiff medical malpractice firms. Utilizing both the classroom setting and supervised field placements, students study and critique health-care programs such as Medicaid and Medicare, legal mechanisms that monitor the quality of care, doctor-patient relationships, bioethics and issues of privacy and civil liberties. In addition to legislative and policy work, the concentration provides students with opportunities to enhance their legal writing and litigation skills.
Immigrant & Non-Citizen Rights Clinic
The Immigrant & Non-Citizen Rights Clinic (INRC) trains future social justice lawyers to help close the growing legal divide between citizens and non-citizens of the United States. Clinic objectives are carried out through direct legal representation and defense as well as advocacy and lawyering in support of communities and movements. Students practice at all levels of the federal judiciary, and before administrative agencies and courts, military tribunals, and international bodies. INRC utilizes a holistic and collaborative approach to client representation, often working in concert with medical professionals and others to ensure immigrant and/or detained clients receive access to housing, healthcare, education, and public benefits. To hone the full panoply of advocacy skills, students also participate in projects involving legislative advocacy, community education, organizing support and community intake clinics both through in-house projects and external placements.
Human Rights and Gender Justice Clinic
The Human Rights and Gender Justice Clinic will undertake a variety of advocacy projects designed to advance the recognition of women's rights as human rights in both international and domestic legal and public policy arenas. The projects will focus on topics involving violence against women and reproductive health care. We will undertake specific advocacy projects in conjunction with other women's and human rights organizations here and in Latin America and the Caribbean. These will include drafting and analyzing treaties and other international documents, preparing factual, legal and policy analyses for legislative and administrative reform efforts, filing petitions and briefs before courts or commissions, as well as developing educational and background materials for public education and grass roots advocacy. This work will entail both formal and informal advocacy before committees and other bodies of the United Nations and the regional international institutions such as the Organization of American States as well as in legislative, judicial or administrative bodies at the state level. We will not be representing individual clients but rather expect to work collaboratively with other groups, both domestic and international, seeking to advance particular goals.
This clinic focuses on the diverse range of intervenor and advocacy skills involved in mediation practice. Students serve as mediators in a broad range of settings, including disputes referred to local court-annexed mediation programs and the New York State Division of Human Rights. Students mediate cases involving workplace discrimination claims, public accommodations and disability issues, as well as landlord-tenant, family, neighbor and consumer disputes. For students interested in labor and worker-centered practice, the clinic includes both the study and practice of mediation in union and non-union employee/employer disputes. In addition to individual mediations, clinic students have worked in projects that advance mediation practice, including child welfare mediation, preparation of bench memos for mediators on a variety of legal topics and drafting guidelines for not-for-profits' use of internal dispute resolution mechanisms.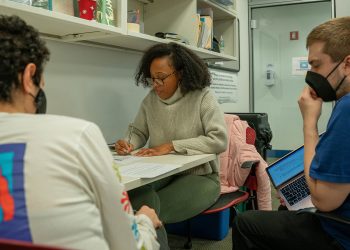 OFFICE HOURS
Time: Monday – Friday, 10:00AM – 8:30PM
Office: 5th Floor
Phone: (718) 340-1212
Email: clinicdean@law.cuny.edu